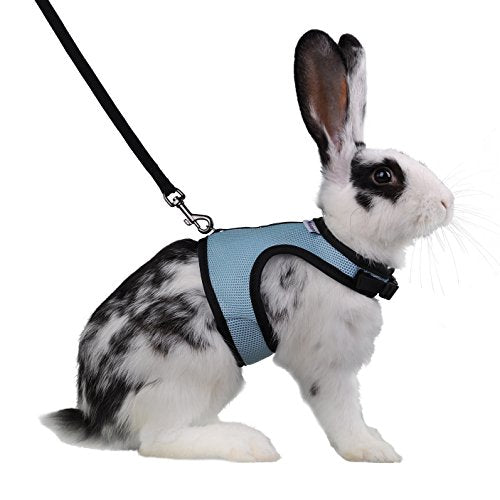 Niteangel Adjustable Soft Harness with Elastic Leash for Rabbits (L, Blue)
Original price
$17.98
-
Original price
$21.98
Large size, suitable for adult rabbits.
Durable mesh material, soft and comfortable to wear with padding.
Adjustable at chest and stomach - extra nylon strap with snap buckle.
Easy control with fully elastic leash of 120cm (47 in) to extend to 250cm (98 in).
Designed for rabbits between 3.5lbs and 6lbs. Stomach Circumference: 20-35cm (7.9 - 13.8 in), Neck: 16-20cm (6.3 - 7.9 in), Back: 12.2cm (4.8 in).
Very comfortable material, no gripping or rubbing. Your lovely rabbits can wear it all day and night and even sleeps with it. This harness is simple to attach to your pet and just as easy to remove with clips and Velcro. You can control it easily because of the fully elastic nylon leash (120cm/47-in to extend to 250cm/98-in). Harness with Elastic Leash enables you to take your rabbit outside and enjoy a quiet backyard, but please be aware that rabbits don't go for walks as dogs do. Keep rabbits out of the hot sun. This Large Size Soft Harness was designed for adult rabbits between 3.5lbs and 6lbs. Large Size Neck: 16~20 cm (6-1/4 ~ 7-7/8 in) Chest: 20~35 cm (7-7/8 ~ 13-3/4 in) Back: 12.2 cm (4-3/4 in) Notice Please measure your rabbit to ensure the correct size is purchased.