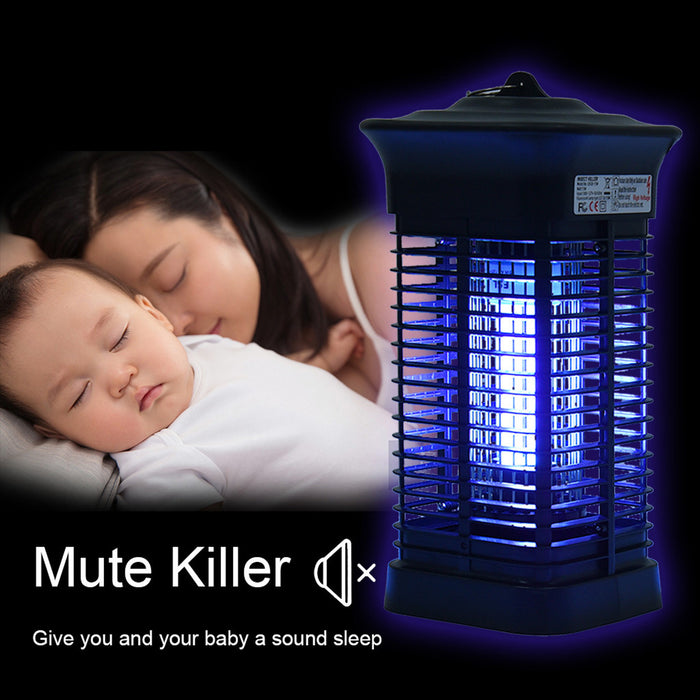 13W Electric Mosquito-Killer Fly Bug Insects Zapper-Killer Pest Control TrapLamp
Original price
$79.93
-
Original price
$79.93
13W Electric Mosquito-Killer Fly Bug Insects Zapper-Killer Pest Control TrapLamp
Description:
Do not use in locations where flammable, vapour or explosive-dust is likely to exist.

The electric grid can hold some residual charge after the unit has been unplugged, so before you replacing the bulb, first discharge by shorting across any two grid wires with (an insulated handle, then remove the light bulb holder and replace the bulb.

Should often clean pests on the grid wires to improve the efficiency. Unplugged before using soft brush to clean it, do not put the unit into water.

Should the grid wires be parallel and untouched each other, otherwise it will be short.

Do not put anything into the unit while it is plugged in.

Do-not-touch the electrical grill by hands or electrical conductor.

Do be kept out of reach of children; Please ensure children do not play with the unit.

Can not be intended for use by persons (including children) with reduced physical, sensory or mental capabilities, or lack of experience and knowledge, unless they have been given supervision or instruction concerning use of the appliance by a person responsible for their safety.

NATURAL, CHEMICAL-FREE PEST CONTROL: Stop exposing your family and yourself to harmful chemicals. This electric zapper is the perfect chemical-free pest control alternative, safe to use in every indoor setting with a heavy flying pest infestation problem.

Ideal for all indoor environments: exceptionally safe and secure to use in every home area as well as hospitals, workplace areas, Commercial spaces such as restaurant kitchens, warehouses and retail stores. Not for outdoor use.



 
Feature:
Size

: 14.1x14.1x29cm

Wattage:13-15W

Attracts insects by using a bright light (ultraviolet bulbs).

Color:

Black

Material: ABS

Cable Length:1.5M

 
Package included:
1x Mosquito Killer

1x

Brush