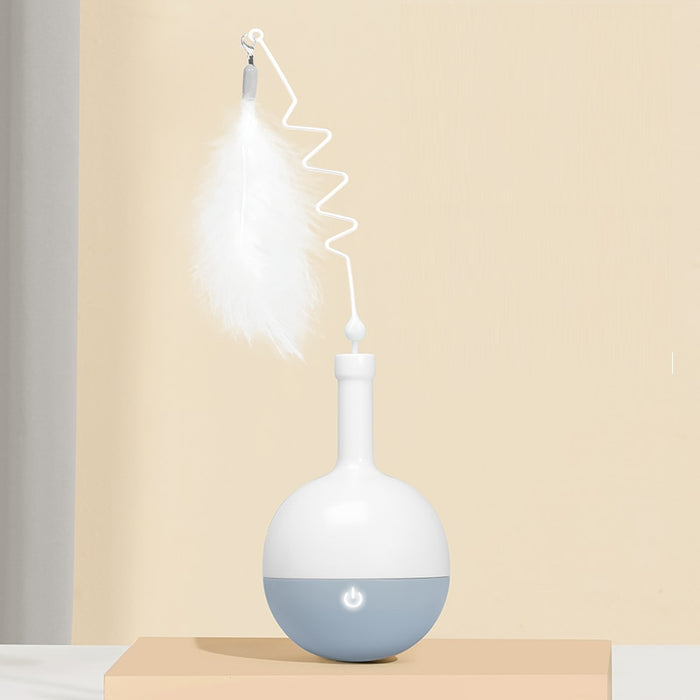 Save

$12.99
Save

$9.99
Original price
$39.96
-
Original price
$51.96
SPECIFICATIONS
Cat Kitten Ball Toy Automatic Food/Treat Dispenser Windmill Cat Toy Pet Teaser Wand Interactive Self Rotating Ball With Feather
Type: cats
Toys Type: Feather Toys
Origin: Mainland China
Material: Plastic
Is Smart Device: YES
>[SLOW MOTION SPEED] Spinning becomes slower after the feather is attached. It is exclusively made for those pet owners preferring a pet-friendly cat toy with tender motion rather than overly fast speed.
>[INTERACTIVE CAT TOY] What cat toy can beat a wobbling ball with rotating feathers? Our fun toy can save your energy and play with your kitten automatically with his/her favorite wand.
>[AUTOMATIC PLAY AND SHUTDOWN] The kitten toy comes with a built-in sensor to auto start or shut down its motion depending on cat's reaction. The whole playing time is made effortless!
>[GOOD EXERCISE TOY] When your cat chases the ball, he/she also burns calories and fight obesity. It's a great toy to keep your cat mentally stimulated.
>[REWARD BY FOOD DISPENSING] The ball is also a food/treat dispenser. Just like in the wild, the cat gets rewards after he/she captures a prey! The toy is powered by two AAA batteries. Batteries are not included in the package.
Description
Name:Series Wine Bottle Cat Toy
Colour:Pink, Gray, Aqua
Size:83.97mm(Bottle diameter)X 320.78mm (Total toy height)
Materia:ABS, PP, PVC, Hot melt glue, metal
Product Object:Cat
Whati's in the box :
Feather * 1
Connecting rod * 2
Main body (cat ball toy) * 1
Screw driver * 1
User manual * 1
Insert batteries
Open the battery compartment by screw driver attached in box, insert two AAA batteries, and tighten the screw of the battery compartment.
Unscrew to load food
Rotate to the direction of arrow, unscrew the treat storage tank, place it upside down to load cat food or treat, then tighten it.
Remove cap
Remove the plastic protectixe cap on the top of the transmission shaft.
Install rod
Remove the plastic cap on the transmission shaft and install the connecting rod to complete installation.
It's like a roly-poly toy with endless entertainment. Made to bring your pets full joy when it is spinning and rotating back and forth.
With built-in sensors, it can intelligently start and stop. it's like a smart buddy of your cat and help protecting your furnitures from paw damage!
Our toy is also a food dispenser to feed your pets when playing. The fun doubles with treat available at any time!
Everyone knows it's important for a cat to be active to stay healthy. Playing with such a cat toy is a good way to make sure that your cat gets enough exercise at home.