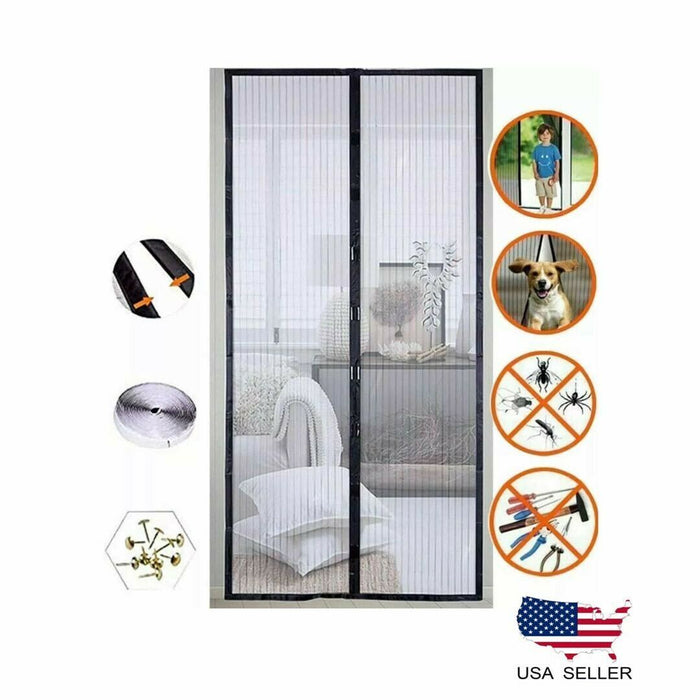 Magnetic Screen Door Retractable Mesh Net Pet Patio Hands Free Mosquito Magic
Original price
$31.23
-
Original price
$31.23
The ORIGINAL Magentic Screen Door Express by Clean Co. is easy to setup, a breeze to use and is great for pets, people, babies and chimpanzees! Once setup, the magnets on the openings will keep the screen door closed. The magnets easily open up when people and animals walk through it and close again like magic! Made out of reinforced fiberglass mesh that is strong enough to withstand a chimpanzee (disclaimer: product has not been actually tested by a chimpanzee).

The size of the Magnetic Screen Door Express is 83" height x 39" width. The most common American standard size door is 80" x 36", so the extra 3" on the sides will cover the door frame making this screen door able to cover a door+frame of up to 83" x 39". Make sure you measure your door!

Specifications:
Material: Mesh
Color: Black
Quantity of magnets: 8 pairs
Size of unfolded magic mesh: Approx. 83" x 39" in (length x width) / 210 * 100cm
Weight of magic mesh: 225g / 7.9oz
Package size: 24.5 * 17.5 * 5cm / 9.6 * 6.9 * 2in
Package weight: 320g / 11.2oz

Description:
The ORIGINAL Magnetic Screen Door EXPRESS by Clean Co.!
New Instant Mosquito Door Mesh with Magnetic Magic Closures
Keeps the fresh air in and keeps nature out!
Effortlessly opens and automatically closes securely using smart magnets
Hands are full? Walk right through, the screen will close by itself!
Children and pets walk through and the screen closes behind them
sets up in seconds with no tools required, and fold up for easy storage.
Detailed setup instructions are included!
Great for single doors, sliding doors, french doors, camers and RV's.